SELL TICKETS
Welcome to the Official 2021 Big Red Bash Ticket Trading Site. We're here to help you sell your unwanted tickets in a safe and secure environment. Thanks for trading your tickets officially, and helping us stamp out scammers.
RESALE REQUESTS HAVE NOW CLOSED
The first thing you should know is that this is a ticket trading platform, not an automatic refund facility. While demand is currently very high for 2021 tickets, we cannot guarantee that your tickets will be sold. You will receive proceeds from the sale of tickets (excluding booking fees, processing fees and Pay Over Time fees) only after your tickets are sold.
How it works
Resale request submissions have now closed.
Once you've submitted your ticket details, your tickets are checked and verified to ensure they are valid and that they do in fact belong to you. Please read and follow the instructions carefully, and ensure that the details you submit are accurate.
Once your tickets are verified, they will be queued for release to the Oztix resale site the next Wednesday at 12:00pm AEST. You will be notified via email when your tickets have been listed. (Please note that tickets submitted after 12am AEST (midnight) on Tuesday will NOT be released the following day, but the Wednesday after).
If your tickets are sold you will be notified within 7 days of the sale, and payment will be initiated via Oztix.
FAQ's
Who can use this facility?
This facility is available to original ticket holders who purchased tickets directly via Oztix. If you are not the original ticket holder - for example if you purchased tickets privately - you will not be able to use this facility.
How will I receive the proceeds if my tickets are sold?
Proceeds of the sale will be made to the same card that you used for the original ticket purchase. Your sold tickets will be cancelled and they will not be valid.
How can I maximise my chances of selling my unwanted tickets?
Tickets are sold in the order they are listed, so the best thing is to list your unwanted tickets sooner rather than later. Your ticket might be sold instantly when released, or it might take several days or weeks/months. It's also possible that it won't sell prior to the event. The earlier you list your ticket, the greater chance you have of selling it.
Can I choose who I sell my ticket to?
No, this facility is based on a first in best dressed system, you cannot select a specific purchaser.
What if only some of my unwanted tickets sell?
If only part of your order is sold, you will be entitled to the proceeds of the sale of that component of the order, and the remaining unsold tickets will continue to be listed until sold.
How much will I receive for each ticket sold?
You will receive the ticket price less admin fees, booking fees and Pay Over Time fees (if applicable). Please refer to the table below for the amount you will receive for each ticket type when sold.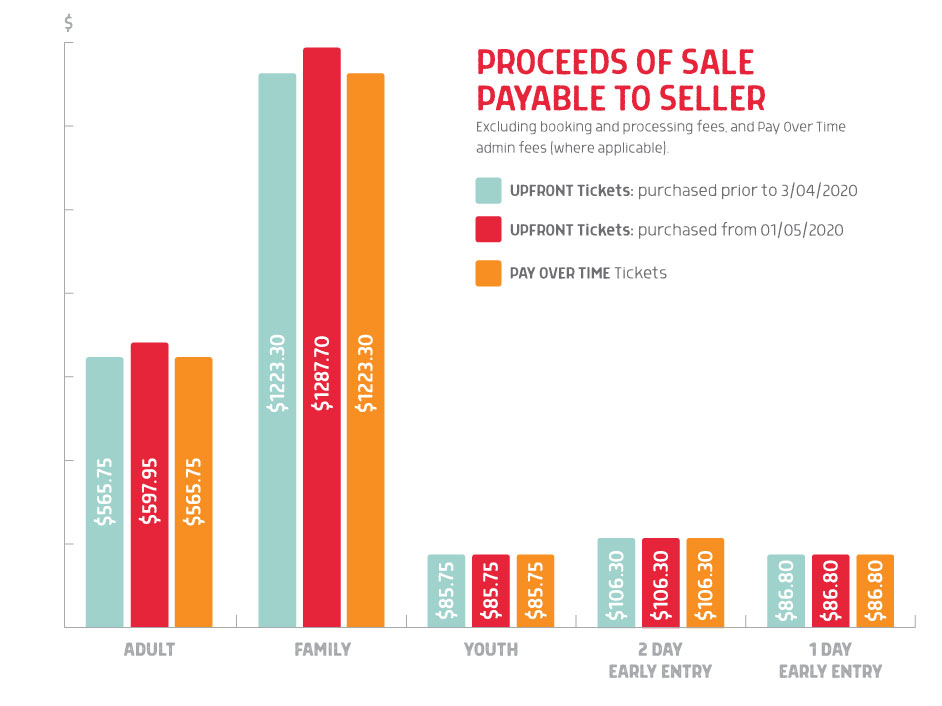 I bought optional Booking Protect insurance with my ticket. Is this transferable?
If you purchased the optional Booking Protect insurance at the time of ticket purchase, please note that this is not refundable or transferable.