SIMPSON DESERT QLD | 5-7 JULY 2022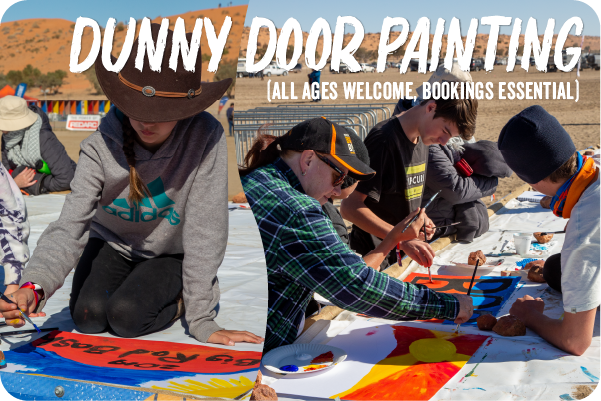 2019 saw the installation of our very own composting dunnies which we're super proud of! Let's continue to adorn the doors with masterpieces from our junior Big Red Bash travellers! Students will paint cardboard pieces measuring 600mm x 420mm which will be hung from the dunny doors in the concert area - be sure to check out their creative paintings!
Session Details
8 separate sessions will be held over the event.
Each session is limited to 18 students.
The sessions will be lead by a volunteer art teacher. The children will be supervised and encouraged during the session. Children under 5yrs are welcome to participate, however we ask a guardian to stay with them.
Cardboard, paint and brushes are supplied. Please wear old clothes that can handle some mis-placed paint, or BYO smock.
Sessions are held in the REDARC Plaza on the V6 Amarok Stage.
Paintings will be available for you to collect and take home if you wish between 8.30am and 11am on Friday 8th July from the V6 Amarok Stage.
Costs
There is a $15 fee to cover painting supplies.
How To Book In
Spaces within each session are limited, bookings are ESSENTIAL.
BOOK ONLINE early to secure your preferred session time. 
Should any space remain available, bookings can be made at the Info tent in the REDARC Plaza.
Session Times
Sunday 3rd: 12:30pm - 2:30pm & 3:30pm - 5:30pm
Monday 4th: 10am - 12pm & 2:30pm - 4:30pm
Tuesday 5th: 8:30am - 10:30am & 2pm - 4pm
Wednesday 6th: 12:30pm - 2:30pm & 2:30pm - 4:30pm