SIMPSON DESERT QLD | 6-8 JULY 2021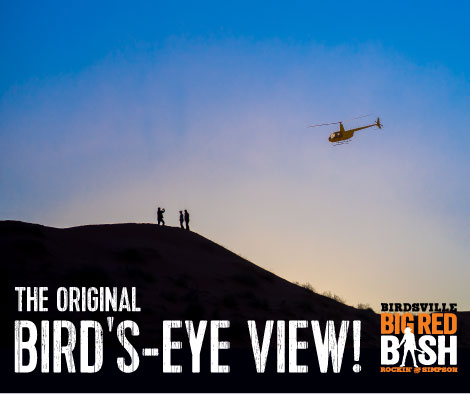 A scenic flight over Bashville and the surrounding Simpson desert is an amazing way to see the sights and get a true perspective of the area. Its a must do Big Red Bash experience!
The helicopter is a 4 seat Robinson R44, and will take 3 passengers. All passengers get a window seat.
When
Monday 5th July 2.00pm to sunset (6:04pm)
Tuesday 6th July 8.30am to sunset (6:05pm)
Wednesday 7th July 8.30am to sunset (6:05pm)
Thursday 8th July 8.30am to sunset (6:06pm)
Where
Head over to the helicopter booking tent (in the plaza, outside the merchandise tent) to book your flight. Make your bookings early when you get to Bashville to get your preferred flight time and make sure you don't miss out on this amazing experience.
Costs
Pricing reflects the cost of bringing the helicopter from Emerald 800km away, and also the loading and unloading time.
6 minute flight $110
12 minute flight $195
prices are per person and based on 3 passengers per flight
flight times include passenger load and unload times
if you are solo or a group of 2, our heli attendants will help pair you with another booking to fill the heli
payment via cash or card