This year thousands of people will make the unforgettable journey from all over Australia (and the world!) to the Big Red Bash. For some, it will be your first time in the Australian desert, driving on outback roads and camping on the red dirt.
It's incredibly exciting - you'll never forget your first night camped under the milky way. But we understand that there's also a lot to think about when you're preparing for a journey like this.
Our website is chock-a-block with useful information to help you plan and prepare for the Bash, but we know it can be a little daunting. That's why we've brought together some of the most important information for first timers to help get your head around what to bring, what to keep in mind and what expect on the way and at the Bash.
Outback Travel
Weather
The Bash is on the edge of the Simpson desert, but we'll be there in winter so it might not be as hot as you think. You'll still want a hat and light clothes for during the day, but it can get pretty chilly at night, so you might want to think about packing for cold conditions as well.
Click here for more information about weather conditions.
Outback Driving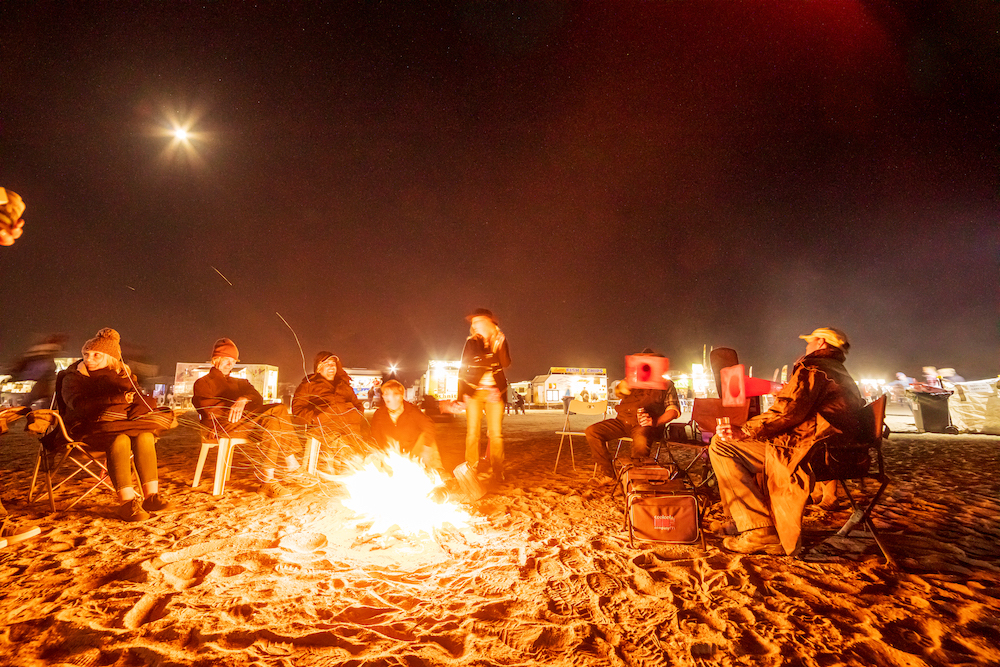 Driving on Australia's outback roads is an unforgettable experience, and driving to the Bash you'll be part of a great nationwide journey to Birdsville. The roads that lead to Birdsville are spectacular, with big skies and wide open vistas, but driving on single-lane bitumen and loose surfaces for the first time can be a bit bewildering.
We've put together some guidelines on outback driving etiquette and safety to help you navigate some of these situations. Click here for more information.
We've also created some travel guides so you can make sure your route takes in some of the must-see attractions along the way. Click here to see the trip planner and travel guides.
If you're interested in how our event vehicles travel to the Bash, you might like to read these articles on what our crew do when we're towing on outback roads, and how we set our tyre pressures on gravel and sandy outback roads.
It's also worth following the Travelling to the Big Red Bash Facebook page for regular updates and discussions on outback travel.
One of the most important things to remember on the road is to take your time and plan for delays. Road closures, Bash-related traffic and queues are common, so come prepared for a bit of an adventure and allow an extra day or two at either end of your trip. Always bring enough water, food and medical supplies to see you through an unexpected detour or delay.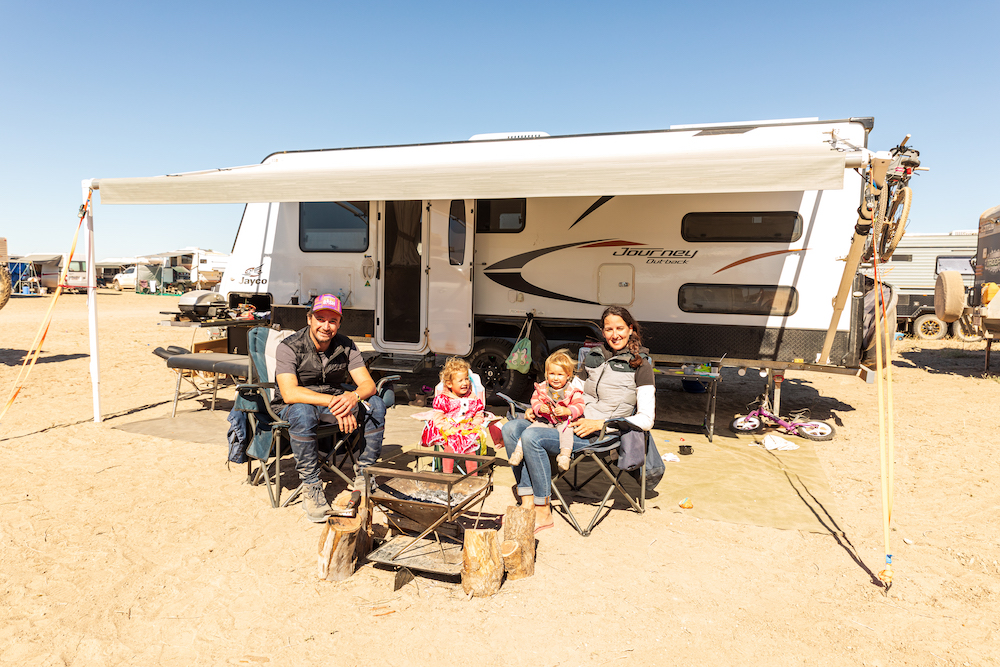 Big Red Bash Essentials
Where do I stay in Birdsville?
Birdsville is a beautiful desert town about 35km from Bashville. Before and after the Bash the population swells from about 100 to nearly ten thousand!
The only accommodation available in Birdsville during this time is camping, so make sure your camping setup is durable enough to keep you comfortable for more than just a few days.
Click here for more information about accommodation in Birdsville.
What should I bring?
Bashville is a pop-up town on the edge of the desert, and the most remote music festival in the world. We'll provide most of the essentials like toilets, greywater disposal, a well-resourced medical facility, food vendors and limited firewood and ice, but that's about it.
To help you come prepared to be self-sufficient in the outdoors we've put together a recommended gear list, along with some hints and tips from seasoned Bashers to help you remember the essentials.
Check out the gear guide here.
For more information about what facilities to expect in Bashville, click here.
Rolling In and Out of Bashville
Around 4000 vehicles will roll in and out of Bashville to attend the Big Red Bash festival.
Moving this many vehicles in and out of Bashville is quite a feat!
Of course it will take some time to get everybody in and out safely, but with a little patience and by following some handy hints, we'll make your roll in and out experience run as smoothly as possible.
Your Bash A-Z Guide is an invaluable read to ensure you are prepared and can help us ensure that you get in and out as quickly and safely as possible.
Health and Medication
Medical services in Birdsville are limited, so make sure any medical conditions are under control before you leave. There are no pharmacies in Birdsville, so you need to bring all your medications with you.
We have a well-resourced medical facility at Bashville, staffed by doctors, paramedics and nurses from Queensland Health, but it is not a pharmacy. The closest hospital to Bashville is 685km away in Mt Isa, and the closest pharmacy is 625km away in Quilpie.
Big Red Bash App
Make sure you also download the Big Red Bash App, available on Apple and Android. It will be available in mid June before the Bash and will be updated regularly with important information and alerts.
More than just information about concert times and activities, it also has an interactive GPS map to help you find your way around Bashville, and a personalised event planner, so you can schedule all your must-see artists and activities to make sure you don't miss a thing!
Big Red Bash Festival Guide
The 2022 Festival Guide is available to download as a PDF if you'd like to take a look. Containing a host of important information, it's a great way to get to know the event, important information and what's on.
Bash FM
Tune into BashFM in Bashville to hear news, live updates, artist interviews, the music you love and much, much more!
Still have questions?
No worries!
You might find the answers on our Frequently Asked Questions page. To see the FAQs, click here.
We also recommend joining the Travelling to the Big Red Bash group on Facebook. You'll find a lively and connected community and heaps of tips from seasoned Bashers. Click here to visit the page.
And of course you can contact us by clicking here.