Camping on the red dirt is an amazing experience, and we're here to help make sure you're self-sufficient, bush-ready and prepared for an incredible time camping in the desert.
We know that some of you haven't camped at the Bash before - maybe it's even your first time camping in the outback! It can be hard to know where to start when you're packing for a trip like this, so we've put this page together as a jumping-off point.
Please use it as a guide: there might be things on the list you don't need, or things you'll want to take that aren't on the list.
Your Camp Setup
Winter in the desert is usually beautiful, warm and dry during the day and cold at night, but it can get windy and once in a blue moon it does rain, so come prepared for all weather:
Somewhere to sleep: Tent / swag / camper trailer / camper van / caravan
Sleeping gear: Mattress, pillows, sleeping bags / linen
Shelter from the sun: Awnings, tarps, umbrellas, pop-up gazebos etc
Wet weather: Extra tarps or awnings especially for swags and canvas tent
Lighting: Torch & spare batteries, camp lanterns etc
Table & chairs
Camping tips:

Bring a solid shelter with a waterproof floor.
Bring a tarp - great for shelter from sun, wind or rain, protecting your tent floor or just a little privacy!
Put a closed-cell foam mat under your inflatable mat for extra warmth and to protect from prickles
Bring strong pegs for the red dirt, and a set of sand pegs can also be handy if your campsite is a bit soft.
Avoid mesh-only tents - the dust comes right in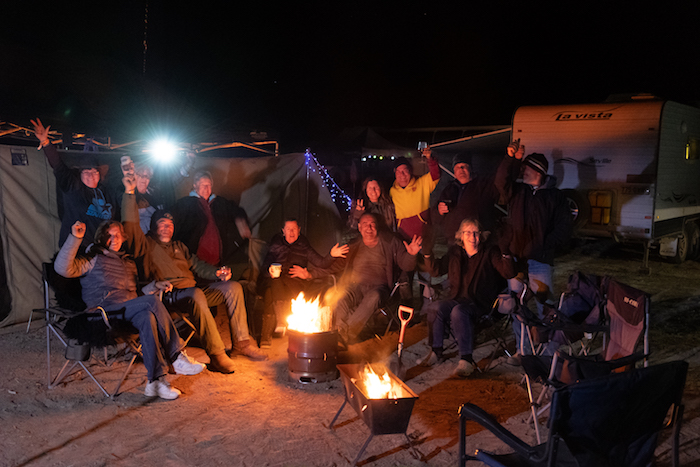 Your Camp Kitchen
Cooking gear: Stove and plenty of fuel/gas. Pans / Saucepans / Kettle
Keep it cool: Fridge / esky with ice (limited supply of ice available for purchase at the Bash)
Cleaning gear: Wash-up tub / Tea towel / Sponge / Dishwashing liquid
Grey water capture container: 20L drum or storage on your vehicle
Plate / Bowl / Mug / Cutlery
Hand sanitiser
Rubbish bags
No glass is allowed in the concert, public or camp areas. Glass allowed in your camp kitchen only.
Please take all grey water, including dish water, to dump points - do not tip on the ground.
Eating and Drinking
You can buy basic groceries in Birdvsille and there's a range of delicious food vendors at the Bash, but we recommend bringing some food with you as well. There is no drinking water available at the Bash so make sure you fill up in Birdsville before heading out to Big Red.
Plenty of food and snacks
Drinking water (Recommended 3L of drinking water per person per day)
Extra water for washing up
Cans/casks of alcohol
Food tips

Wraps keep better than bread
Individually wrap fruit and vegetables in newspaper and store in a cardboard box to keep them fresh
For quick and easy camp meals, pre-cook and cryovac or vacuum-pack your meals - soups, stews, curries and pasta dishes work great!
Daytime
During the day it's generally warm and sunny, so bring lightweight clothing to protect from the sun, eg.
Long sleeved shirts
Long pants
Comfortable shoes/boots for walking on the dirt
Night time
It can get very cold at night, so bring plenty of warm clothing, eg.
Long-sleeved thermals and a fleece
Warm jackets and pants
Beanie, Scarf, Gloves
Toiletries
You might want to think about adding these things to your regular toiletries:
Toilet paper
Moisturiser and lip balm (it is very dry in the desert!)
Hand sanitiser
Towel
Wet wipes (dry shower!)
Sunscreen
Insect Repellent
Womens sanitary items
REMEMBER: you must bring ALL medications (there is no pharmacy in Birdsville or at the Bash)
Emergency Gear and Safety
You're going to need some extra emergency and repair gear for outback travel. Exactly what you need will depend on your vehicle and which route you're taking.
The QLD Government resource Driving in the Outback is a good place to start HERE.
For more essential tips on planning for the Bash, don't miss the Coming to the Bash checklist and our first timers guide to the Bash. You can also find more info about the event on our FAQ page.