Composting Toilets
In 2018 we replaced our chemical port-a-loos with hygienic, odourless, composting toilets.
They reduced our water use, didn't smell, and under the watchful eye of our volunteer 'dunny angels' they were always squeaky clean.
How do they work?
For your number ones, nothing changes
For your number twos, simply cover it up with one scoop of sawdust
As you leave the toilet block, use the hand sanitiser pump pack to clean your hands
Why?
The Bash is in a remote, dry part of Australia. Our old chemical port-a-loos used:
140,000 litres of fresh water for flushing
Two semi-trailer tankers to transport 160,000 litres of liquid waste to Birdsville Waste Treatment Plant every day!
Several diesel-burning pump trucks to maintain them
Advantages of Composting:
No water (or transport of) needed for flushing
Drastically reduced transport needed for sewage
Only environmentally sound cleaning products used - no bleaches, formaldehyde or other chemicals
Within a year the dry compost is given to nearby farmers to fertilise their land
If you'd like to find out more about composting toilets check out some of those who have advised and inspired us:
https://permaculturenews.org/2014/07/21/building-basic-compost-toilet/
https://www.milkwood.net/2010/11/23/the-most-lovable-loo-in-the-west/
https://weblife.org/humanure/default.html
http://www.naturalevent.com.au/
Recycle Your Cans
Everyone likes to relax by the fire with a tinny after a long day*. At the Bash, where glass is prohibited (except in your camp kitchen), we see a lot of cans. In fact, we estimate that over half of the rubbish we generate is cans.
At the 2018 Bash we introduced can recycling for the first time and we collected over 30 cubic metres of aluminium cans. They weighed 1.2 tonnes.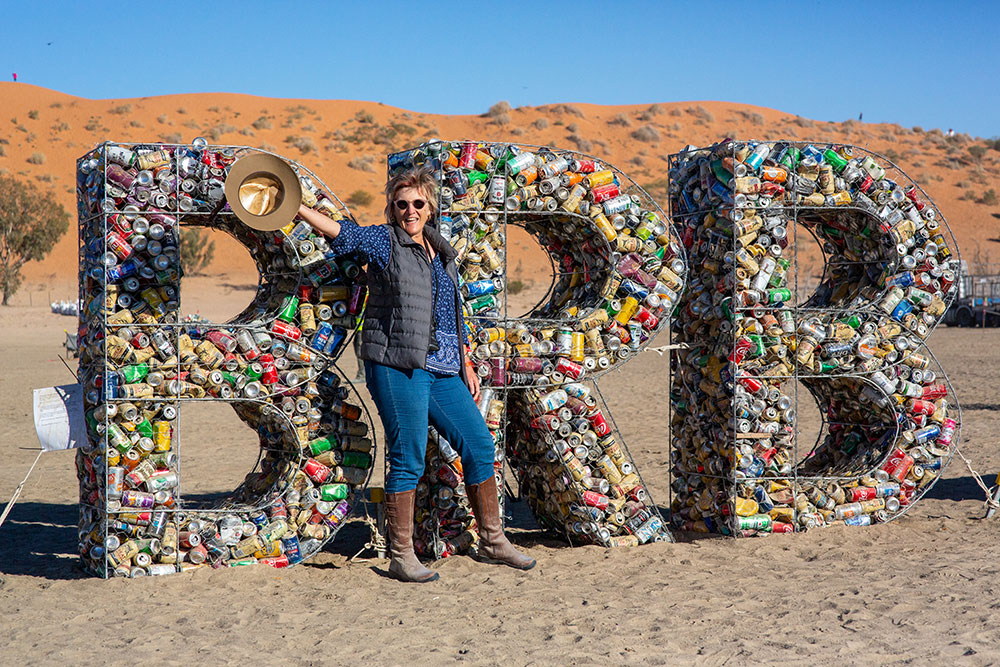 Our dedicated team of sustainability volunteers crushed the cans down to 10 cubic metres to transport almost 2000km back to a recycling plant, using spare capacity on our event trucks.
We had such a great response last year that this year we're going even bigger. We will have more bins and hope to collect even more cans.
So when you're at the Bash, please collect your cans and drop them in the recycling bins in the Plaza and Concert Area.
*Almost everyone :)