Ticket Prices 2022
Tickets for the Big Red Bash give you entry to the 3 days and nights of music, and on-site camping for four nights (Tuesday 5th, Wednesday 6th, Thursday 7th and Friday 8th):
Adult (18+ years) $629
Youth (12 - 17 years) $95
Child (11 years & under) Free - A ticket for each child needs to be booked.
Family (2 x adults, plus unlimited child and youth) $1,353 - A ticket for each child & youth needs to be booked once a family pass has been selected.
** Ticket prices include booking fee and 2.5% processing fee.
Tickets also entitle ticket holders to a full refund if the event is cancelled due to weather or Covid related circumstances. See the ticketing terms and conditions for details.
Pay Over Time Purchase Option
Pay over time tickets are available which allow you to pay for your tickets over 5 installments. The first installment will be paid when you initially purchase your Pay Over Time ticket on or before 27th February 2022 with the next installments payable in 4 week increments. 
Pay Over Time tickets incur additional administration fees. Please refer to the table below outlining the installment amounts.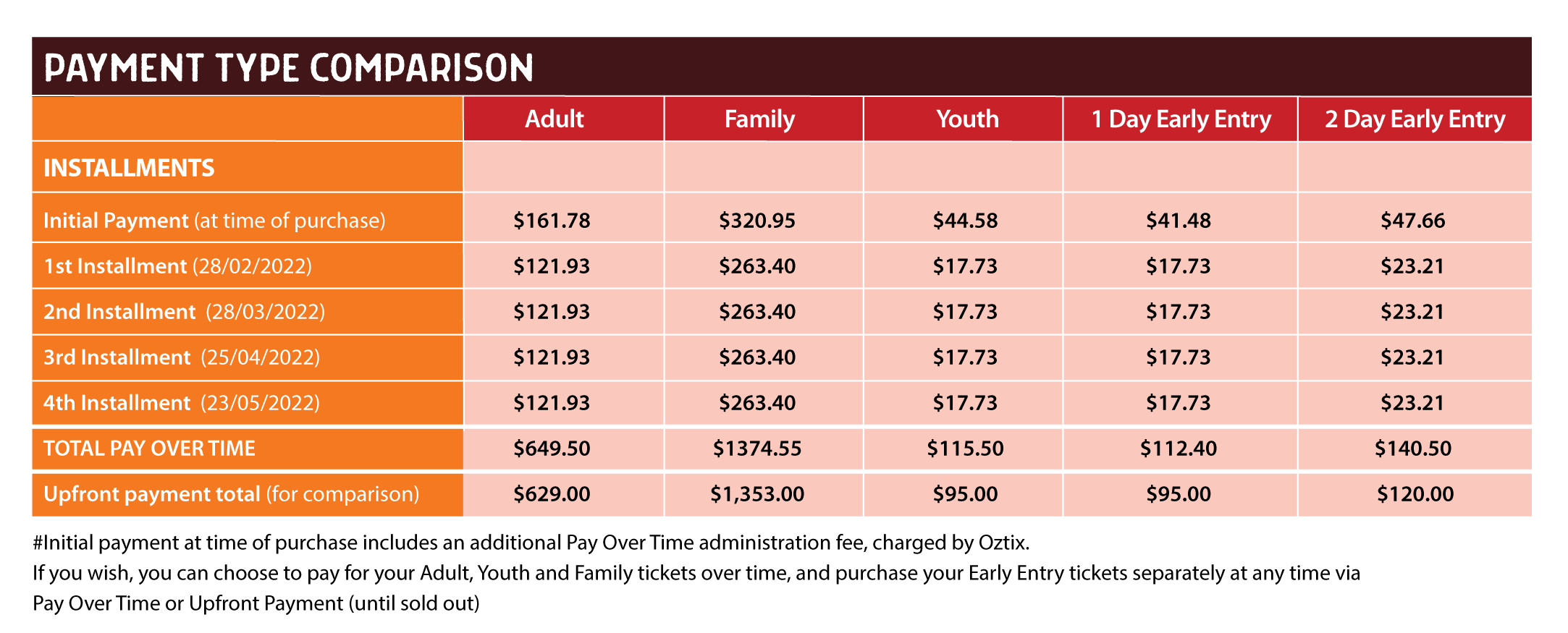 Optional Extras 2022
The following optional extras are available for purchase (until sold out) in addition to your regular ticket, providing extra flexibility if you're camping on-site:
Early Entry Camping Pass - Additional nights camping at Big Red: 1 additional night ($95 per vehicle) or 2 additional nights ($120 per vehicle). Purchase at the same time as your general tickets, or at a later date (until sold out)
Early Exit Pass - pack up & leave the campground one day earlier ($15 per vehicle). All proceeds go to the Royal Flying Doctors Service. On sale 9am 11th May 2022.
See the table below for a comparison of the different tickets and the different options they provide for campers.