Volunteering at the Big Red Bash is a great way to get involved behind the scenes at Australia's most remote music festival, it is also a more affordable means of attending the Bash while getting to meet loads of like-minded people. With over 20 different volunteer teams, you are sure to find something that appeals to your interests, skills and work experience.
If you are interested in volunteering at the Big Red Bash, please read the following before completing your application.
Please be aware that due to the remote nature of the event, we will only be accepting volunteers 18 years and over.
Check out some of these testimonials from past volunteers:
"Brilliant experience! I'd do it again in a heartbeat! Thanks for the opportunity. " - Greg
"We volunteered for the first time this year and didn't know what to expect. We were always made to feel like valuable members of the Big Red team and wouldn't hesitate to recommend this whole experience to family and friends." - Cathy
"Volunteering brings a whole new aspect to the experience of a music festival. Camping with other volunteers is great too. There is a feeling of comradery in knowing we are all helping to make this incredible event happen. I enjoyed getting there days before the festival began and watching a pile of materials grow into a small party town.
The event is so well organised by a fantastic crew who obviously love their work. Everything was well explained, and they really cared that volunteers were prepared for the job they were doing. The punters aren't shy in showing their appreciation for volunteers either. It was going to be a one-off for me but it's too good. I'll be back." - Paula
And click here to read this fantastic and informative blog post from a 2018 volunteer and click here for another great and detailed blog post from a 2019 volunteer.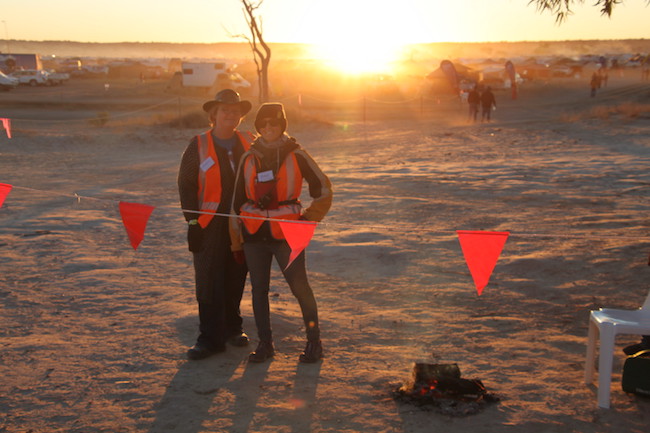 General Info
The concert venue is 35km west of Birdsville on the edge of the Simpson Desert. There is no electricity, mobile phone reception or town water. There will be food stalls selling food while the concert is operating and we provide toilets at the camping area.
What you can expect from us
A ticket to the three days of the concert PLUS early entry camping.
Early access to the BRB Merchandise store, before patrons arrive on site.
Opportunity to be part of an event in the iconic Simpson Desert.
A camping spot in the volunteer area.
A free crew T-shirt, cap, glossy printed program and tube bandana.
A post event thank you with nibblies and a drink
Thorough training in your role and room for growth to other positions in future years.
Volunteers are fully supported by our professional team of event organisers which includes qualified risk and safety experts, a qualified builder for the stage, a qualified electrician and professional production crew.
You can view more information about your role as a volunteer here.
Being Prepared
Due the nature of the event, in particular its remote location our volunteers need to be self-sufficient for the duration of your time in the desert. These are the things you will need to consider;
Volunteering with children and youth
If you are volunteering and plan to bring your kids and teens along to the Bash with you, you will need to buy tickets for them by calling Oztix on 1300 762 545.
Transportation
See our Transport Options page for a number of ways to get to the Big Red Bash.
You need to be self-sufficient for your own transport on site. We anticipate that most volunteers will have their own cars – and for some shifts it is a requirement (the application pages will outline which shifts require your own vehicle).
You can find other volunteers via our Facebook Volunteer Group and make contact about car-pooling, however it is not guaranteed you will find an appropriate person to carpool with.
You may or may not already know that once vehicles are inside the campsite there is a strict no driving policy. Volunteers who need to drive to get to their shift will be exempt from this and will be provided with a car pass.
Accommodation
You need to bring your own camper, van, tent, swag or similar. Once you arrive at the event, you will be directed to the volunteers camping area within the event grounds.
Food
You need to be self-sufficient for your own food, water and camping supplies. There's a small general store in Birdsville but it can run out of some items when the big concert crowds hit town so it's best to bring all of your own supplies. Birdsville has a hotel and bakery although it's not always possible to get a meal in busy times.
Ready to continue?
Existing ticket holders are not entitled to refunds on their tickets, so please consider this carefully before applying for a volunteer role.
To apply to volunteer visit our Volunteer Application Portal.